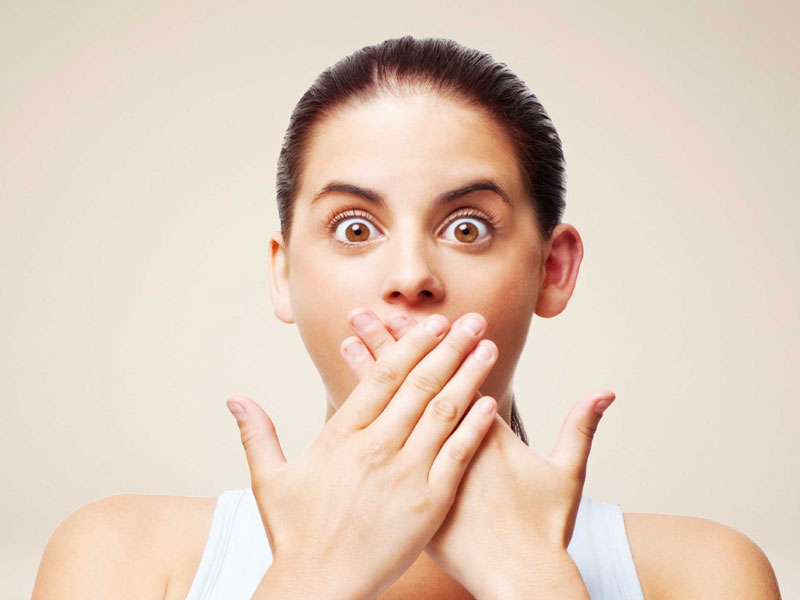 WHAT İS BAD BREATH (HALİTOSİS)? :
Briefly, the ugly smell that comes from the mouth is called halitosis. İt is hard to define bad breath as a disease but it can be served as an early warning of infection and disease. Halitosis can be seperated into two parts, pathological and physiological.

PHYSİOLOGİCAL BAD BREATH:
Every healthy person when waken up in the morning suffers from bad breath, usually from gases built up in the digestive tract or bacteria built up on the tongue. Brushing your tongue, using mouthwash containing zinc and chewing gum can resolve this issue. Bad breath that occurs directly after eating a meal is physiological bad breath and does not require treatment
PATHOLOGİCAL BAD BREATH (REAL HALİTOSİS):
Patients with halitosis may not come to a dentist with the complaint of bad breath or they are tolerating it and have accepted it.

REASONS FOR BAD BREATH:
Sinus and lung problems especially.
Diabetes (smell resembles acetone)
Renal failure (smell resembles fish)
Liver failure
Bad metabolism (diagnosing this problem in its early stages at first will be difficult but in time it will be present and the smell resembles fish)
Hunger and dry mouth (lack of liquid will result in the body burning fat and protein and the by-product is bad breath)
87% of all bad breath problems are from mouth cavities. 51% from the tongue, 17% from gingivitis, 15% from periodontitis and 17% from the mix of all of these. These types of bad breath are not hard to deal with and the problem will be evident in the first examination. The troubled gum tissue can easily be detected by eye and are a aimple treatment
FOR TREATMENT OF ORAL CAVİTY ENDUCED BAD BREATH;

1.PROTECT YOUR TEETH AND GUMS.
Tooth decay and infected gums are one of the main reasons bad breath occurs. They cause bad breath because they increase the amount of bacteria in the mouth. That is why it is important to listen carefully to the instructions your dentist refers to you.

2.HAVE YOUR DENTURES AND BRİDGES CHECKED.
Food residue building up in between your bridges can cause bad breath. İn the event that your old bridges or dentures have started wearing away then they must be replaced.

3.DRİNK MORE WATER.
Not drinking enough water is a big problem, as you age particularly. Drinking alot of water will result in your tongue not drying which is an important tool to fight bad breath. Water keeps bacteria in the mouth to a minimum.

4.USE DENTAL FLOSS.
With dental floss you can reach areas in the mouth you can not with just a toothbrush to remove food residue. Bacteria tends to build up in the pockets of your gums.

5.CHEW YOUR FOOD WELL.
The beter you chew your food the more it mixes with saliva and in turn prevents the food sticking inbetween gaps in your teeth.

6.REDUCE YOUR BASİC SUGAR İNTAKE.
Basic sugars (sugary snacks) lead to speeding up the process of tooth decay. That is why you must reduce your sugar intake. Reducing sugar has dozens of benefits and increases the chances of bad breath.

7.DONT SMOKE CİGARRETTES.
Smoking cigarrettes results in a dry mouth and can lead to bad breath. İt also has a significant affect on your gums.